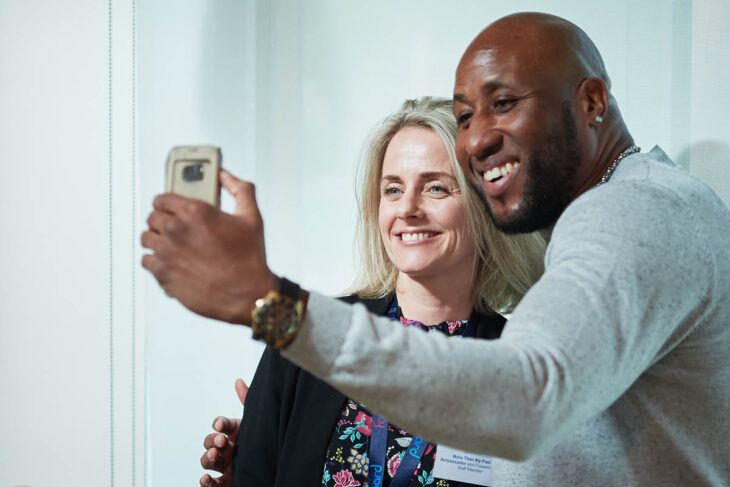 The UK government estimates the total economic and social cost of reoffending to be £18.1 billion. £9.8 billion of this is caused by theft, much of it driven by substance abuse.
Businesses can be a powerful force for good, helping to create a society that enables more people to live healthy, productive lives free of addiction, offending and related social problems.
By partnering with Forward, you can help address these challenges and create lasting change through a range activities that engage employees while raising vital funds.
I now have a job and somewhere of my own to live. I feel like a new person. If it wasn't for Forward I would still be using drugs and be homeless.

Former Forward client
Who we work with
We work with a wide range of corporate partners whose values and mission align with our own. Without them, our impact wouldn't be the same.
Read about some of our existing partnerships below (more coming soon).
NAAMA Studios: Tattoo Removal

NAAMA Studios offer fast, safe and effective tattoo removal to those looking for a fresh start. A much-valued partner of ours, they are currently treating 8 of our clients at their flagship studio in London.

Cathy Berman at NAAMA says:

"At NAAMA we use breakthrough laser technology and world-leading expertise to lift the weight of tattoo regret and empower people with new beginnings. We want to take away the fear, shame and regret associated with tattoo removal, and replace it with freedom, body positivity and personal evolution. Our treatment is faster, gentler and safer than traditional methods, and plans are bespoke to each customer.

"We work with Forward to help provide people with convictions with second chances as we know the mental anguish that a tattoo with bad memories can bring. Our purpose and vision are entirely aligned with Forward and their More Than My Past campaign, and we consider our work together a really important part of our social impact."
Ways we can work together
Cultural and social change
Educating and empowering your employees and customers to help tackle drug and alcohol misuse and support people to break the cycle of addiction and offending
The Recovery Fund
Raising funds for activities that enable long-term changes, such as starting new careers, structured programmes of recovery, or moving into new tenancies. Our public sector contracts rarely pay for these services, so we rely on charitable funding to deliver them.
More Than My Past
Helping to challenge stigma towards people in recovery from addiction and ex-offenders, enabling them to participate in society though our More Than My Past campaign.
In 2019-20, we helped 16,500 people through our face-to-face services – 1,376 of whom we supported into jobs, homes and long-term recovery. To ensure even more people achieve lasting transformational change, we need our corporate partners more than ever.
Let's work together
To discuss working together today, get in touch using the form below.

Whenever I see my mum, she has a big smile on her face because I'm sober and safe: there's nothing like seeing your mum happy and proud.

Darren L,

Former Forward client and Trainee

Read Darren's story