Mike Trace gives the low-down on our new Forward Trust Recovery Fund
By Mike Trace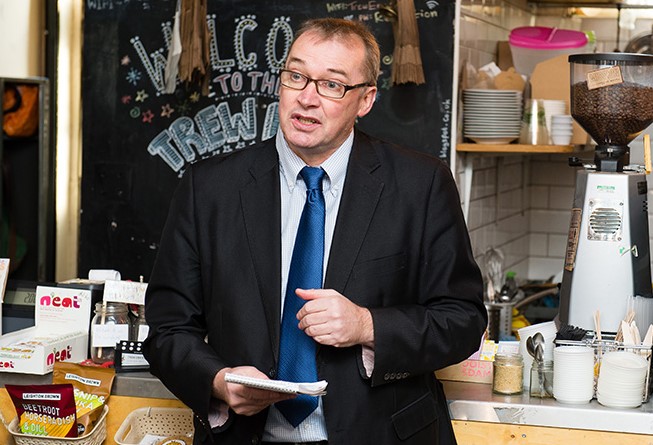 Our CEO Mike Trace tells us about our new Forward Trust Recovery Fund – to be launched at the start of April – that will help us provide more of the vital initiatives that contribute to successful, life-changing recovery than we could accomplish through Government contracts alone.
What is the Forward Trust Recovery Fund?
For many years, we have had to rely on the generosity of donors and philanthropists to fund the interventions that we know are successful in supporting people's long-term recovery, as Government contracts often do not cover these activities. We've always done this, but in an 'ad hoc' way, raising funds for specific programmes. We are launching the Forward Trust Recovery Fund to shine a spotlight on initiatives we are funding in this way and to increase the amount raised towards helping people to become more than their past.
Why did it come about?
We've noted in recent years that our contracts are providing less and less funds for recovery; ironic given that we are not only getting better at honing our programmes and support networks to be as effective as possible but want to do more of them. We know how valuable these recovery services are, so wanted to develop a way to raise more money to help expand them, in order to help more people find recovery and turn their lives around. We hope that the creation of this fund will help those who already donate to see the impact of their contributions even more clearly, and encourage others to get involved.
What is it for?
The sorts of activity that we will support through this fund will be ones we already run, such as prison-based programmes and peer support networks, as well as the development of new initiatives. Activities will include:
Structured recovery programmes – delivering 12-step and other programmes as 'added value' to contracts in prison and community that would otherwise not feature them
Recovery Support – providing ongoing support in prison and in the community for graduates of our structured recovery programmes
Apprenticeships and trainees – salary costs for people in recovery working for Forward, who will be trained with funds from our contribution to the Government's Apprenticeship Levy scheme (please see here for more details of what the Apprenticeship Levy entails)
Forward Connect – expanding our community of people in recovery through organising national and local social activities, reunions and mutual support
Family workers – supporting our clients and their loved ones to build and improve their loving relationships
The Bridges – targeted support and resources for our residential rehabilitation centre in Hull delivering structured recovery programmes for men leaving prison
More Than My Past – supporting our national campaign that challenges stigma around addiction and offending and gives voice to people in recovery from all walks of life
All of these initiatives interact to create a supportive framework to help people through their recovery.
Part of the fund will also be used to further extend the evidence base for our recovery pathways and to take this evidence to Government, policymakers and commissioners.
Who will support the fund?
We are fortunate to have a number of existing donors who we hope will continue to support our work. We also hope to attract other donors. The majority of the funding is earmarked for specific projects, at the request of the donors, and this will continue. We will also channel income from fundraising events and other sources that is not earmarked for a particular project to the fund.
How will you monitor and report the impact of the fund?
We will create a panel of staff and service users to oversee the fund and determine the most effective use of its money. This panel will meet every three months to review the amount received and what it is spent on. Every six months, Forward's Executive Team will give a report to contributors and to wider Forward Trust supporters though our newsletters. Over time, contributors to and beneficiaries from the fund will be invited to come together to celebrate its achievements.
What are your aspirations for the fund?
My ultimate aim is that it helps us get the best balance of charitable funds and Government contracts to support transformational change for as many people as possible. I'd like to see us go from a few hundred thousand pounds to millions raised in this way. I'd like us to be able to fund the interventions we know work right now, instead of having to wait for the Government to fund them or to scrabble to raise the money. With The Forward Trust Recovery Fund, we hope to be able to channel philanthropy to where it is most needed and transform the lives of many more people who are trapped in the cycle of crime and addiction.
How can people wishing to support the fund get involved?
If you would like to know more about or contribute to The Forward Trust Recovery Fund, please contact chandni.radia@forwardtrust.org.uk.