19 October 2021
The Duchess of Cambridge gives keynote speech at launch of Forward's new campaign Taking Action on Addiction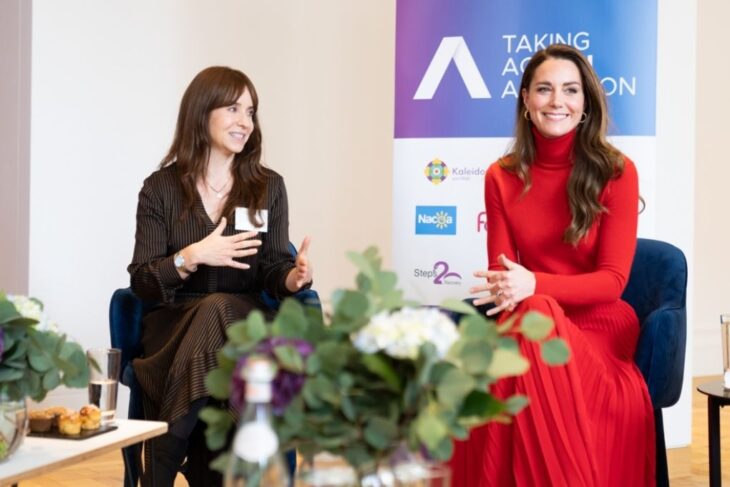 A group of charities, including The Forward Trust, launched the Taking Action on Addiction campaign today during an event, to drive awareness and understanding of addiction. Hosted by Ant and Dec, The Duchess of Cambridge launched the campaign with a keynote speech. The event screened a short film challenging misunderstandings about addiction and was closed by Tom Walker, who gave a special performance of his worldwide hit (about addiction) "Leave A Light On."
As Patron of The Forward Trust, The Duchess stated:
"Addiction is not a choice. No one chooses to become an addict. But it can happen to any one of us. None of us are immune. Yet it's all too rarely discussed as a serious mental health condition. And seldom do we take the time to uncover and fully understand its fundamental root causes.  The journey towards addiction is often multi-layered and complex. But, by recognising what lies beneath addiction, we can help remove the taboo and shame that sadly surrounds it. As a society, we need to start from a position of compassion and empathy. Where we nurture those around us, understand their journey, and what has come before them. We need to value and prioritise care and support, helping to restore and connect individuals who are clearly suffering, to the people around them. That is why I am so passionate about the work of The Forward Trust, an organisation I am so proud to be patron of. This is the work that you, and many other charities, provide day in, day out. And it is needed now, more than ever."
Hosts Ant and Dec commented:
"Most importantly, misunderstanding and fear can stop people asking for help early. This campaign, launched today by all of you and the amazing charities in the room, seeks to change that and we are delighted to join you at its launch event."
The Taking Action on Addiction launch event took place during Addiction Awareness Week (18th-24th October) to drive awareness and call for addiction to be treated as a serious mental health condition. In an emotional event there was a call for increased access to treatment, support, and care for anyone impacted – particularly children and families. The campaign also highlights the need for more openness in talking about addiction, to make it easier for people to ask for help. The campaign launches with a powerful short film that explores childhood dreams and challenges people to think differently about addiction, its root causes and the opportunity of recovery.
Supporting charities include The Amy Winehouse Foundation, Steps 2 Recovery, Phoenix Futures, Music Support, FAVOR, NACOA, and the Kaleidoscope Project.
CEO of The Forward Trust Mike Trace commented:
The event today, which we were honoured to have the HRH The Duchess of Cambridge attend, and Ant and Dec host, is just the start of ending the stigma around addiction. Addiction can happen to anyone, from all different backgrounds and is often triggered by childhood experiences, or loneliness, anxiety and isolation. However, addiction is one of the only mental health conditions where the person suffering with it is blamed. This lack of awareness of the true causes and scale of addiction in society, means that too many people hide their addiction away and do not ask for help early enough.
We need to change this. We need to drive awareness of what addiction is, understand how it impacts people, families, children and communities so we can help people living with it get the support and treatment they need for long term recovery.
Because recovery from addiction is possible and it's time to make this a reality for more people across the country – we hope this starts today."
In the UK the number of people affected by addiction and its consequences is consistently rising.
A national YouGov poll commissioned by The Forward Trust to mark Addiction Awareness Week reveals that over 64% of all adults know of someone struggling with an addiction*. Despite this, half of respondents said they lacked understanding of the condition. It is this misunderstanding charities seek to change so more people can spot symptoms early before devastating consequences take hold.
To find out more about the Taking Action on Addiction campaign, head to www.takingactiononaddiction.org.uk