4 September 2020
Preventing overdoses and saving lives – in prison and the community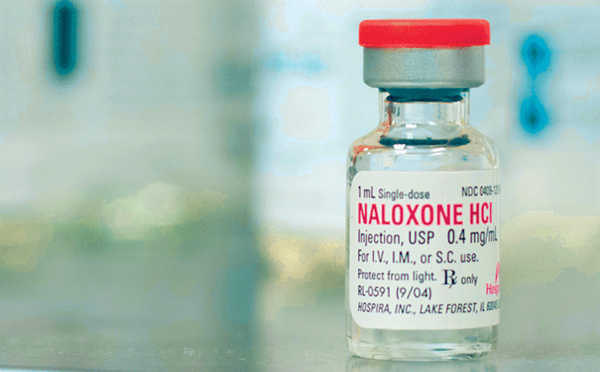 31st August is International Overdose Awareness Day, a global event to raise awareness of overdose and reduce the stigma of drug-related death. Both our prison and community substance misuse teams are doing fantastic work to support people at most risk from overdose.
Spotlight on our prison teams: HMP Elmley
People in prison are at particular risk of overdose at the moment. That's because throughout the lockdown, illicit substances in prisons have been in limited supply. While this has been positive in some respects, the concern is that lockdown restrictions easing will lead to a sudden influx of illicit substances – which could be extremely dangerous for drug-users whose tolerance levels have dropped dramatically. Moreover, due to a similar reduction in supply in the community, it may be that the quality of substances in prisons will be worse or different than they were before, and therefore the effects harder to predict.
We spoke to Nichola, Team Leader at HMP Elmley, to find out more about the challenges that prisons are facing at this time, and the harm reduction work that is being done to address them.
"Elmley does currently appear to be experiencing a spike in illicit substance misuse –particularly over the last week or so. As such, an allocated member of the team is prioritising seeing these residents in order to offer brief interventions and reviews. Whilst we are fairly limited in some of the typical things we would normally do around harm reduction because of the social distancing measures that are still in place, our team has taken the initiative to create a specialised harm minimisation leaflet explaining the dangers of using after lockdown. The Comms Team helped us to produce this, as part of a range of similar materials, and it has now been rolled out to all of our prisons.
As soon as the service is in a position to deliver workshops again, our priority will be to offer in-person harm reduction advice and information about Psychoactive Substances (PS), which used to be called 'legal highs' . Similarly, we will be driving forward our recruitment of peer workers – which have proven benefits for substance misuse and harm reduction – with a view to increasing their presence on wings and availability to residents."
In the community
Spotlight on our community teams: Ashford in East Kent
At Forward, all of our frontline staff are trained in the use of 'naloxone' to mitigate the life-threatening effects of an overdose. Naloxone is a medicine which can temporarily reverse the effects of an overdose caused by opiates and opioids such as heroin, methadone or morphine. One of the most dangerous effects of these drugs is that they can slow down and stop breathing. Naloxone reverses this effect by removing the opiates from the opiate receptors, which temporarily prevents respiratory failure, therefore reducing the risk of death.
Staff at Forward's Ashford hub put their naloxone training into practice last month when one of their clients came into the hub to use their needle exchange service and it quickly became apparent that he was heavily under the influence.
Tarnya, Team Leader at the Ashford hub, describes what happened:
"A client came in and told us he'd overdosed. we advised him we would call an ambulance which he declined. As we were calling the emergency services he became agitated and left the building. He then collapsed on the pavement near to the building.
The team saw him collapse, donned in full Personal Protective Equipment (PPE), and took their naloxone kit to where he was lying unconscious on the floor, and where members of the public were starting to congregate. They performed all of the routine first aid procedures but the client remained unresponsive.
"We had to tell people to stand back – we were about to give him a shot of naloxone and we knew he had the potential to become agitated or even aggressive: the naloxone removes opiates very quickly, which isn't a pleasant experience for the individual, even though it's a lifesaving drug." – Tarnya says.
That's when Abbie MacGregor, one of our Drug and Alcohol Practitioners, administered a shot of naloxone to the client's, and moments later, just as the ambulance arrived, the client came back around.
"Abbie was unbelievably brave to administer the shot. You can have all the training in the world, but there's nothing like doing it for real. That said, the whole team was amazing. Everyone pulled together and played their part – it was truly a team effort.
"It just goes to show the importance of naloxone training, and how beneficial it can be when the time comes. If we hadn't used the naloxone, the outcome could have been much worse."
We have since managed to make contact with him and the police have also performed a welfare check."
Naloxone kits and training on how to use them are given to every opiate client that attends one of our community hubs. Forward workers also train the family and friends of a client, as the chances are it will be someone else who has to administer the naloxone if the individual overdoses
We would like to commend the Ashford team for their initiative and quick action to save this client's life.