HRH The Duchess of Cambridge returns to HMP Send to meet current and former Forward clients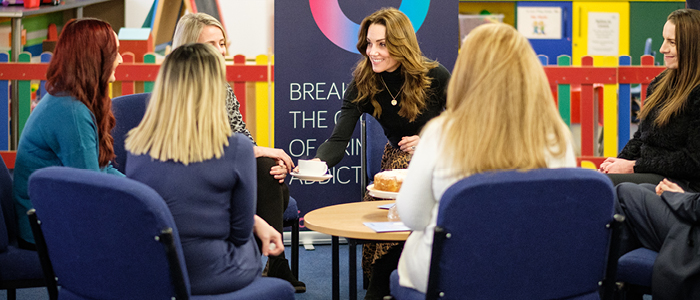 HRH the Duchess of Cambridge returned to HMP Send today to meet with women five years on as well as those currently in prison.
Forward is one of the largest providers of intensive, abstinence-based addiction services in the UK, working across the country to empower people to break the often-interlinked cycles of addiction or crime and move forward with their lives. The programme Forward delivers in HMP Send is the only intensive 12-step prison-based drug and alcohol programme for women in the UK.
A bigger impact
The programme is ever-growing. Since the Duchess's last visit in 2015, the substance misuse centre at HMP Send has expanded to offer more one-on-one support and mindfulness workshops, supporting over 200 more women to address their substance misuse issues.
Since establishing the programme 20 years ago, research has found that – on completion of the scheme – women are 38% less likely to reoffend than individuals with a similar offending profile who did not engage with the programme.
Family ties
Forward's programme also has two dedicated Family Workers based within the substance misuse centre. The Family Workers help clients maintain or restore relationships with their family whilst in and out of prison. Many of the women within the prison have children of their own, so it is vital to keep this bond strong.
The importance of early childhood is something close to the Duchess's heart. Yesterday she launched a landmark survey which gives people across the UK an opportunity to provide their view on raising the next generation. The information from the survey will be a vital source of information for the early years sector and to help focus the Duchess's work through The Royal Foundation.
Amazing results
Today, she spoke with serving prisoners being supported by Forward and women who have now left and are making a new life for themselves. She heard about the considerable effect that experiences in the early years can have on the rest of your life.
One of the women the The Duchess was reunited with was Kirsty Day, who she first met in 2015. Kirsty spent her childhood in and out of the care system. Following a series of adverse experiences, she turned to substance misuse and began a 10-year cycle of addiction and re-offending.
Kirsty said: "In my teenage years, I experienced a series of loss, hurt and abuse. From this moment on, I entered a downward spiral of addiction and prison.
"While serving my sentence, I woke up one day and realised enough was enough. I took myself to my drug and alcohol worker and asked for help. I was lucky enough to be sent to HMP Send for a fresh start.
"The programme changed my life. In some of my darkest moments since, I have never turned back to drugs."
Five years on from the Duchess's last visit, Kirsty has married, been promoted at The Nelson Trust and even been shortlisted as a nominee at the National Diversity Awards, recognising her work in helping women recover from addiction and trauma.
Kirsty is proof of how offenders and recovering addicts can turn their life around. Kirsty is also an advocate for Forward's More Than My Past campaign that aims to break the stigmas surrounding ex-offenders and recovering addicts by encouraging people to share their stories.
Forward's CEO Mike Trace said:
We are delighted to welcome The Duchess of Cambridge back to HMP Send to hear more about the difference our expanded treatment programme is making and to see first-hand how transformational change can happen. We are grateful for the Duchess's continued commitment in raising the profile of our services and her belief that people are more than their past. If you give people the opportunity to prove themselves, they can do amazing things and we will continue our work to support thousands more people into lasting recovery.
HMP Send Governor Carlene Dixon said:
I'm delighted the Duchess of Cambridge came here today to meet staff and prisoners. Lord Farmer's review made clear the vital role of maintaining strong family relationships in reducing re-offending and I am determined to support this work to break the cycle of re-offending. Many of our prisoners have suffered trauma and abuse in their childhoods and a number struggle with drug and alcohol problems. It is vital that we empower offenders so we can move them away from crime for good and ultimately improve public safety.
For more information about More Than My Past visit morethanmypast.org.uk