1 April 2021
Finding creative ways to support foreign nationals during lockdown at HMP Maidstone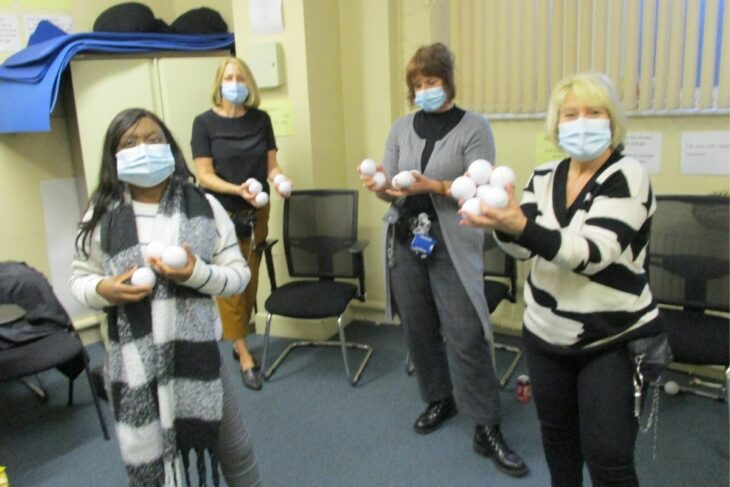 Finding ways to keep prison clients engaged during lockdown has been a struggle for all of our prison teams, but working with foreign nationals brings an added challenge.
"Lots of our clients struggle with reading and writing English, so in-cell packs, while great, are not always ideal for our clients." says Donna Swift, Drug and Alcohol Practitioner at HMP Maidstone.
"Besides, when you've got nobody to talk to about it afterwards, writing down how you feel sometimes isn't the best solution."
Searching for alternative outlets for clients, Donna reached out to some companies for support. To the team's delight, Everything Community, a social enterprise that specialise in community building, got back straight away with the offer of some free stress balls.
"Everything Community were brilliant. They sent over the stress balls so quickly – and even branded them with Forward's logo! They're just the job – they're quiet to play with and perfect for relieving tension in a situation like this" Donna says.
"We've had a positive response from all of our clients. Some of the guys juggle so we were able to give them a few. Even the officers have been asking for them!"
The HMP Maidstone Team have also created a recovery-focused game for clients, with prizes for those who complete it.
Emma Luck, Service Manager, says: "I was inspired by some of the fitness groups I've been involved with over lockdown. They always have different activities and challenges going on. It occurred to me that we could turn that into something recovery related.
"Without being able to run groups, we're lacking that sense of community. And because there can be a language barrier, our clients tend to prefer the practical stuff. We wanted to try something that everyone can get stuck into."
The team sends out a card at the start of the month with recovery-related tasks for clients to complete, ticking them off as they go. Clients then hand them back in, together with supporting evidence, at the end of the month.
Tasks include things like: 'do a 20 minute in-cell workout', 'try a new coping strategy and write down how it went', 'talk to someone else about how you're feeling, 'write down a gratitude list', 'colour in one picture from the distraction pack', as well as short readings from recovery literature to reflect on.
"For the time being, we need to be mindful of restrictions. We haven't included anything clients aren't able to do locked up on their own." Emma says.
The team have managed to line up some fantastic prizes, including books, rubix cubes, colouring sets and PIN credit.
"When the restrictions lift, our aim is to bring other departments into it. The gym might be able to offer personal training sessions for instance, and the education department, art classes. It's something we'd really like to grow." says Emma.