Virtual Garden Party raises over £25,000 for The Bridges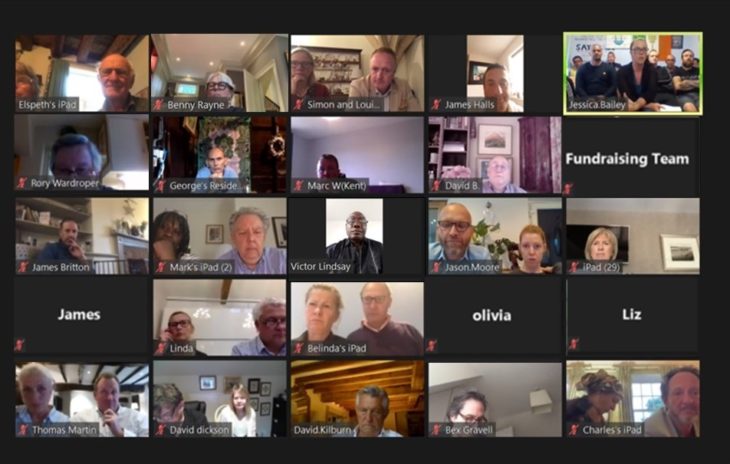 An innovative 'virtual garden party', co-hosted by Linda and David Kilburn and Victoria and Christian Carver has raised £25,676 for The Bridges, our Hull-based drug and alcohol rehabilitation centre.
The Bridges, on Holderness Road in Hull, is the UK's only residential drug and alcohol treatment facility specifically designed for men who have been in prison. The centre is run by The Forward Trust, a national recovery and rehabilitation charity.
In normal times, the Fundraising Advisory Group in Yorkshire, chaired by Simon Reevell, hold a series of special events to steward many individual supporters of The Bridges and help raise funds to enable its vital work to continue. But this year, in the context of a global pandemic and continuing lockdown restrictions, the group got creative.
On Thursday 11th June, in place of a face-to-face event, The Bridges hosted a 'virtual garden party' using video calling software. The event was attended by over 100 people and raised an amazing £25,676 thanks to our amazing supporters, including Arco and MKM Building Supplies.
Speakers at the event included Victor Lindsay, a former client of The Bridges, who spoke movingly about his recovery journey and said: "Fundraising is important because it saves lives, especially my life. My life has been saved and I am living a different life now and I am enjoying the life I have. I am so grateful for this event and all the supporters who have donated generously".
Simon Reevell, the Chair of Forward's Fundraising Advisory Group for The Bridges, barrister and former MP for Dewsbury says: "Covid-19 forced the cancellation of a face-to-face garden party but the virus does not mean that the great work at The Bridges stops and so it was a real ray of sunshine to be able to raise £25,676 through a virtual garden party. Thank you to everyone who contributed for helping to make a difference".
Thomas Martin, Non-executive Chairman of Arco, also shared with guests how the company has helped to transform the lives of men after they have completed treatment at The Bridges: "We have worked with The Bridges management to let them know about real jobs, genuine vacancies that we are recruiting for that graduates can apply for. And we are pleased that we have successfully recruited a number of graduates who today say "you've given me my first meaningful work" and "you've given me the strength to get up. You've given me the strength to carry on living".
Since opening in 2004, The Bridges has supported over 450 men with addiction issues to rebuild their lives after being in prison. Over the last 5 years 53% of clients on average have completed the treatment programme, compared to a national average of 48% in other residential treatment programmes.