Rosie Duffield MP visits Canterbury service that supports homeless people with substance misuse issues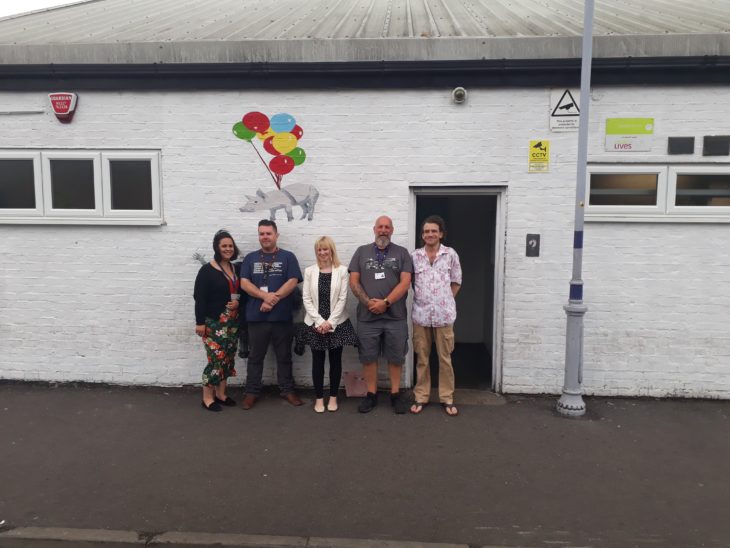 On Monday 3rd June Rosie Duffield, Member of Parliament for Canterbury, came to see first-hand the work being carried out by two local charities. The Forward Trust, which supports people who have issues with substance misuse and Catching Lives, who work with rough sleepers and the homeless.
The visit took place at the Catching Lives Centre in Canterbury, where The Forward Trust runs one of its many drop-in sessions on substance misuse issues. Catching Lives is an independent charity aimed at supporting the rough sleepers, homeless and vulnerably housed in Canterbury and East Kent. Forward are also a registered charity who run the East Kent drug and alcohol service. Forward's service is delivered from a range of satellite Hubs in Canterbury, Whitstable and Herne Bay, including the Catching Lives Centre.
Rosie had the opportunity to meet some of the people being supported, as well as to learn about the help offered, which includes support to become abstinent from drugs and alcohol, health checks, blood-borne virus testing, Naloxone dispensing and needle exchange. Naloxone is an effective, cheap and easy to administer drug that can save lives by reversing the reduced breathing rate caused by an opioid overdose and thus preventing death1.
Rosie also met with Rory Batts, Forward's Rough Sleepers Coordinator, who is working as part of Kent's work on the national Rough Sleeping Initiative to halve rough sleeping by 2022 and eliminate it by 20272.
Rosie said of the visit:
"The Forward Trust and Catching Lives provide essential support to people with substance misuse issues and rough sleepers. I really enjoy my visits to the Catching Lives Centre in Canterbury and I know how vital these services are to our local area. I commend the collaborative efforts of the Forward Trust and Catching Lives to support vulnerable people in Canterbury and East Kent. I was pleased to have the opportunity to hear the stories of people being supported to make significant positive changes in their lives and see the real difference that local projects like this are making in our community."
Laura Killeen, Team Leader at Forward's Canterbury service, said: "It was fantastic to have the opportunity to show Rosie some of the wonderful work being done by both charities. So many of the people that we work with need support in a range of areas. The partnership approach that we are taking with our partner organisations in East Kent means we can provide truly joined-up, holistic support to vulnerable individuals."
Graeme Solly, Project Leader at Catching Lives, said, "We were pleased to be able to show Rosie the partnership work we have been undertaking at our centre with The Forward Trust. Some of the clients we see have turned to alcohol or drug use as a way of coping with life on the streets, and sometimes this use becomes a barrier to finding accommodation, or accessing other services such as support for mental health issues. Once people take the initial step to engage in support for their substance use it can open the door for them to make significant positive changes to their lives."
More information on the Canterbury service, including the days, times and locations of its drop-in services, can be found here: https://www.forwardtrust.org.uk/our-services/community-drug-and-alcohol-services/canterbury-service/
References
1. Langham, S., Wright, A., Kenworthy, J., Grieve, R., & Dunlop, W. C. N. (2018). Cost-Effectiveness of Take-Home Naloxone for the Prevention of Overdose Fatalities among Heroin Users in the United Kingdom. Value in Health https://doi.org/10.1016/j.jval.2017.07.014
2. Ministry of Housing, Communities & Local Government, "New government initiative to reduce rough sleeping", www.gov.uk/government/news/new-government-initiative-to-reduce-rough-sleeping